commercial@alhambrathalasso.com
72 240590
Welcome to Tunisia, Welcome to Hammamet, Welcome to the Alhambra Thalasso
Discover all the art of living of Cap Bon and the delights of Tunisia by offering you a stay in Hammamet. And to make your stay unforgettable, Hotel Alhambra Thalasso has prepared you a welcome, which you are not ready to forget.
---
A hotel in Hammamet, a sumptuous setting in a dream setting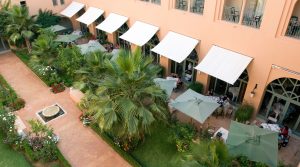 Easily accessible from the airports of Monastir or Tunis Carthage, the Alhambra Thalasso welcomes you in a green and soothing environment. At 200 meters from the beaches, discover the 184 rooms, apartments and suites of our establishment. In an Arab-Andalusian style, your hotel in Hammamet immerses you in an instant in the world of calm and serenity. Richly decorated rooms, apartments with sea views, pool or even patio, or luxurious suites await you.
The landscaped park of your hotel thalasso of Hammamet will be the haven of peace accompanying you throughout your stay. Between the outdoor freshwater swimming pool and the swimming pools covered with sea water or fresh water, everyone will find something to indulge their desires. And the little ones will rejoice at the pool that is specially reserved for them.
---
Your holidays in Tunisia, in a thalassotherapy hotel in Hammamet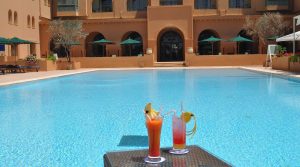 The beach or the pool, the cafes or one of the 8 restaurants of your hotel in Hammamet, … we imagined and created a place dedicated to one goal: your well-being. Go quickly to our thalasso area, where time will stop for soothing and beneficent moments. More than 4500 m2 dedicated to well-being with 37 treatment rooms, so to speak that your happiness can be found at the Alhambra Thalasso
The aqua tonic course of our swimming pool covered with sea water or the pool of aqua massages will be two beautiful entries in matter. You will then follow your own desires to imagine the most suitable wellness course. Between the hammam and the sauna, the massages of all kinds and the fitness sessions, everything is done so that at your own pace, you fill up this fullness, which already characterizes your Thalasso hotel in Hammamet.
---
Tailor-made stays with your hotel in Hammamet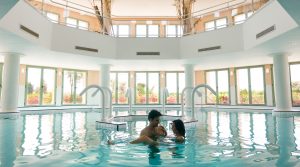 The thalasso area of your hotel in Hammamet will concentrate all your attention. But because you do not all have the same desires and because we all want to enjoy every moment spent in this paradise place, the whole team of the Alhambra Thalasso will advise you to enrich this so soothing holiday in Tunisia:
A private beach within 200 meters of your Thalasso hotel
Indoor and outdoor swimming pool, freshwater and sea water, for adults and children
8 restaurants, cafes and bars for a stay that will awaken your taste buds
Direct access to the public transport network to explore the marina of Yasmine Hammamet
Less than one kilometer from casinos
Two golf courses within 10 kilometers
A leisure center nearby
… ..
And because your well-being remains our priority, the entire team of the Alhambra Thalasso will answer your requests to organize excursions or to extend your stay in this Tunisian Eden.