commercial@alhambrathalasso.com
72 240590
Better than a wedding planner hotel Thalasso Tunisia
And if the most beautiful day of your life was also an unforgettable memory for all the guests
Look no further, you have found the perfect place to organize your wedding or any other event. If you are looking to make this moment unforgettable for your guests, then your hotel Thalasso Hammamet will be the dream place. More efficient than a wedding planner, your Tunisia thalasso hotel takes care of everything, so let yourself go and make this moment an incomparable souvenir for all.
---
A unique setting for a happy and unforgettable wedding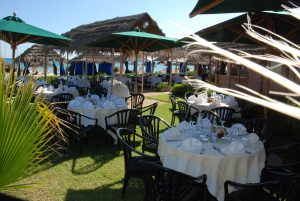 At less than two hundred meters from a private beach and seen offering access to its many swimming pools but also its Thalasso center of 4500 m2 and its 37 treatment rooms, your wedding hotel in Hammamet has everything to satisfy cravings of each one.
Here, young and old alike will always find something to look after in the most enjoyable way. The Alhambra Thalasso is also ideally located a few hundred meters from public transport, close to the golf courses of the region and the shops of the marina of Yasmine Hammamet
---
A thalasso hotel designed to make you live the best day of your life
But because you are primarily interested in organizing this wedding or celebration, the Alhambra Thalasso Hammamet invites you to enjoy this refined and luxurious setting. The Andalusian architecture will be the setting for your celebration and each of your guests will reside in one of our 184 rooms, apartments and suite. The bridal suite for you to live a true fairy tale.
Reception rooms, swimming pool, and seaside, everything is assembled to make your wedding a totally exotic moment.
---
Catering and catering to make your taste buds taste as you marvel at your diners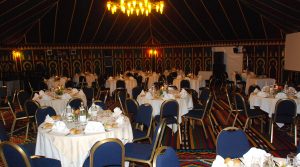 With no less than 8 restaurants and cafes, your Thalasso hotel in Tunisia leaves you to mark your preferences. Mediterranean cuisine or French gastronomy, gourmet buffet or international cuisine, let yourself be guided and advised by our chefs who will make salivating young and old.
More efficient than a wedding planner, your Thalasso hotel in Hammamet takes care of everything, leaving you the opportunity to enjoy these magical and unforgettable moments. So, ready to live this unique moment, contact us without delay and organize together this feast that will mark the spirits forever.
---
Organize your wedding or party at the Alhambra Thalasso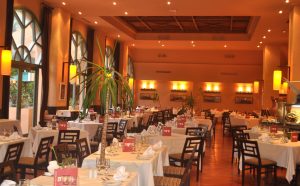 A Thalasso hotel in Hammamet ideally located. Connection to Tunis Carthage and Monastir airports, close to golf courses, leisure centers and marina Yasmine Hammamet
A neat and luxurious setting with a green park and a refined Andalusian architecture
Indoor and outdoor swimming pools, seawater and fresh water and a private beach less than two hundred meters
A Thalasso center of 4,500 m2, the temple of appeasement
184 rooms and suites for comfortable and fully equipped accommodation
8 restaurants and cafes to cater for every taste
Cooks at your disposal for a customized wedding
A turnkey service, where we take care of everything to let you enjoy all our assets.