commercial@alhambrathalasso.com
72 240590
Team Building and corporate travel Tunisia
Reach and strengthen team spirit in an ideal setting
You want to organize the convention of your network and make this major event an unforgettable moment. You are looking to optimize Team Building stays to strengthen the cohesion of your teams. You organize a seminar to federate and motivate your teams. …
For all your corporate events, the Alhambra Thalasso hotel of Hammamet is in charge of meeting your expectations, so opt for efficiency while ensuring you an enchanting Thalasso Tunisia hotel for all participants.
---
A Team Building stay in Tunisia, the Alhambra Thalasso hotel of Hammamet obviously!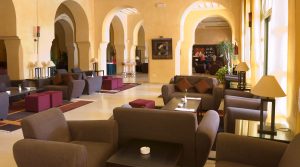 To motivate and federate, you know the importance of the numerous and varied activities that you are going to have to propose to your hosts. At the Alhambra Thalasso, everything is possible and even more. Aquatic games around one of the many pools to strengthen ties or a golf course to get to know each other while having fun.
Two golf courses, a leisure center, shops and the famous marina Yasmine Hammamet are close to your hotel Thalasso.
---
A seminar or a business convention at your Thalasso hotel in Hammamet
And because your seminar or your stay Team Building Tunisia must also be the means of passing on messages, your hotel Thalasso Hammamet offers you its meeting rooms, which adapt to groups of any size. In a soothing environment with a neat architecture, find all the equipment and tools you need, from the wi-fi connection to the giant screen to display your slide shows.
Between two work meetings, a refreshing break in one of our swimming pools or by the sea before heading to one of our restaurants. 8 restaurants and cafes to let everyone enjoy. An opportunity, which will not fail to enchant your collaborators.
---
The Alhambra Thalasso, a Hammamet hotel to leave an unforgettable memory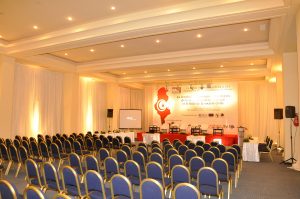 The Alhambra Thalasso of Hammamet will meet all expectations: from sports team building to more academic seminar, through corporate travel or network convention. For even more pleasure, our Thalasso space is at your disposal: more than 4500 m2 dedicated to the well-being of your employees with swimming pools of sea water, hammams, spas and 37 treatment rooms.
A unique opportunity to strengthen the ties within a group but also the guarantee of giving pleasure to your guests, who will know how to occupy the beaches of free time, that your corporate seminar will grant them.
And because your ambition is unique, the entire team of the Alhambra Thalasso Hammamet will help you organize your stay, so ask us and prepare your business trip in Tunisia, in Hammamet.
---
For your business trips, think about efficiency, think Alhambra Thalasso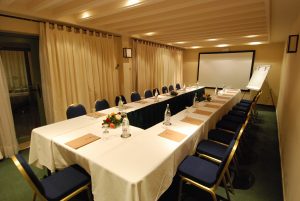 Easily accessible with connections from Carthage and Tunis Carthage airports
Seawater and fresh water pool for aquatic activities
Proximity to a private beach for moments to be shared as a team
Golfs, leisure center, shops, …. Everything nearby to organize your business seminar
Meeting rooms equipped to carry your messages • Wi-fi, giant screen, video projector, … seminars in the best conditions
8 Restaurants and coffee for refreshing breaks or meals to share according to the desires of each
Thalasso space of 4500 m2 at your disposal
A team at your disposal to help you imagine a Team Building stay tailor-made or an original corporate seminar.